Grant Shapps has said Liz Truss had the right priorities but failed as she did not try to deal with the "big structural issues" first.
The business secretary said he agreed the UK should have a low-tax economy, as the short-lived prime minister advocated, but inflation and debt needed to be dealt with first.
He was speaking the morning after Ms Truss released a 4,000-word essay in the Telegraph on Saturday night about what she had wanted to do as PM and why she thought it did not work.
People can 'come to our own conclusions' over Truss claims – live politics updates
Mr Shapps, who was home secretary for Ms Truss' final six days, told Sky News's Sophy Ridge on Sunday programme: "I noted that she said that they hadn't prepared the ground for these big tax changes.
"And I think the truth is, and we know this, what you've got to do first is deal with the big sort of structural issues.
"Deal with inflation first, deal with the debt so you're on a downward trajectory.
"And then you look towards tax cuts."
He added: "I completely agree with Liz's instinct to have a lower tax economy but what we know is if you do that before you've dealt with inflation and debt you can end up in difficulty.
"You can't get the growth out of nowhere."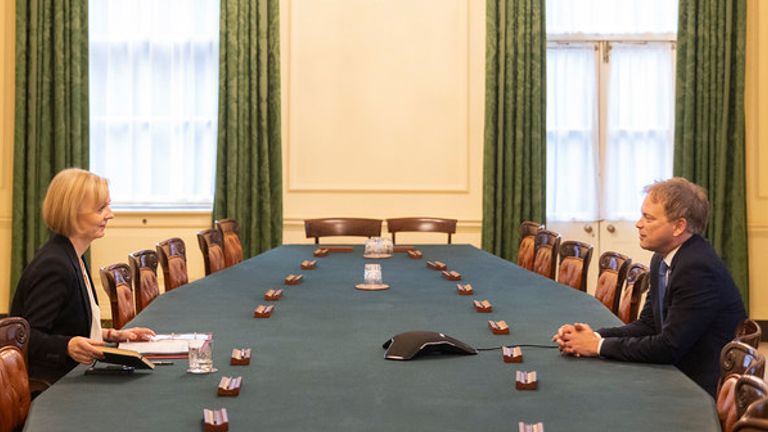 Ms Truss said she was never given a "realistic chance" to implement her radical tax-cutting agenda and claimed she was not warned about the fragility of the British economy.
The former PM also claimed she was ousted by a "very powerful economic establishment" that has "shifted Left-wards" – despite her own MPs forcing her out.
Ms Truss said she has a mandate from Conservative members, after they voted for her over Rishi Sunak, implying the current PM does not as his leadership never went to a vote of the membership.
In her first detailed comments since she was ousted from Number 10, Ms Truss said she had not appreciated the strength of the resistance she would face to her plans.
Read more: Analysis – Truss may be no Messiah but her political comeback has rattled some MPs
'We're back to where we should be'
Despite previously calling Ms Truss "tin-eared", Mr Shapps refused to directly criticise Ms Truss's leadership, which she called time on after just 44 days following the disastrous mini-budget in September.
He added that, as an MP and former Tory leader, she had the right to put her argument across in the article.
But he backed current PM Rishi Sunak in a backhanded swipe at his predecessor, saying the prime minister is tackling high inflation to ease pressure on the economy before growth can happen.
Three PMs in three months: A timeline


"I think the main thing for people to know is Rishi Sunak's come in," he said.
"He's removed that premium that we saw because the markets didn't like what was going on back then and entirely removed the additional premium that was being applied to, essentially, our mortgage rates.
"So we're back to where we should be.
"And he's getting on with the difficult things in a world where Putin's invaded a neighbouring country and inflation is therefore going up. He's got on with the difficult job of dealing with those things."
Truss article 'very important'
Simon Clarke, Tory MP and chief secretary to the Treasury until Ms Truss became PM, said her article poses "important questions" about the extent to which it is possible to deliver tax cuts and/or spending reductions with current economic modelling.
"To what extent does the OBR model the results of policy, and to what extent does it pre-determine it by virtue of its modelling framework?" he tweeted.
Click to subscribe to the Sky News Daily wherever you get your podcasts
Former Conservative MP for Reading East, Rob Wilson, who was a Truss supporter, said her article was "very important" and "you have to take it seriously" when a former PM says she was "stymied by her own Treasury" and raises questions about the Bank of England and the Office for Budget Responsibility (OBR).
"I think that she didn't get a proper go," he told Sky News.
"She made some mistakes, sure. But, you know, we all make mistakes in life.
"She certainly shouldn't have had organisations blocking her from doing the things that she set out to do, that's for certain."